Lo scorso 4 Marzo è morta a St. Petersburg in Florida, lo stesso stato dove era nata 64 anni prima, Valerie Carter, cantautrice che ha svolto gran parte della sua attività nell'area della West Coast, grande amica di Lowell George, e di tutti i Little Feat, che suonarono nei suoi dischi (purtroppo tutti difficili da recuperare in CD, in quanto pubblicati quasi esclusivamente per il mercato giapponese), di Jackson Browne (è presente in Running On Empty) e soprattutto di James Taylor (forse qualcosa di più di un amico), che ne ha tratteggiato un commosso ricordo sul proprio profilo Twitter.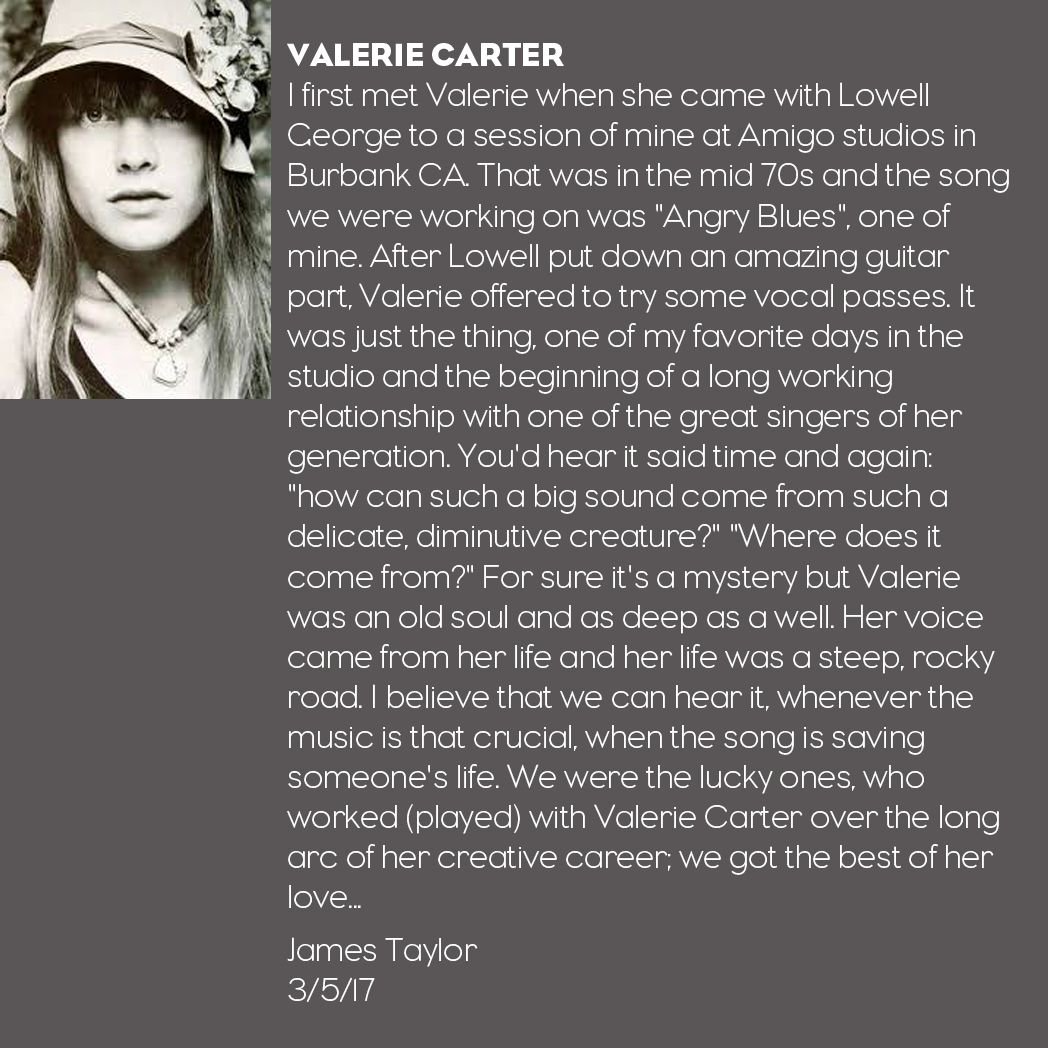 Valerie Carter, come ha annunciato la sorella Janice, è morta per un infarto, e comunque soffriva di problemi cardiaci da tempo, tanto che aveva molto rallentato la sua peraltro mai frenetica attività nell'ambito musicale: si potrebbe dire, pochi ma buoni, come vedete dalla sua discografia riportata per immagini all'inizio del Post. Con Taylor aveva condiviso anche i problemi con le droghe che si erano protratti fino al 2009, quando era stata arrestata e poi inserita in un programma di recupero del Tribunale, che era lo stesso a cui aveva partecipato tanti anni prima, proprio James, che nel 2011 fu presente alla cerimonia in cui le consegnarono una sorta di attestato di "buona condotta". Ma per lei parlano i suoi dischi, le sue collaborazioni, oltre che con Taylor, Browne e i Little Feat, anche con Nicolette Larson, Christopher Cross, Tom Jans, Randy Newman, Don Henley in The End Of the Innocence, Aaron Neville, Glenn Frey, Neil Diamond, Shawn Colvin, Willie Nelson, Judy Collins e altri luminari della musica americana. Ma soprattutto parla la sua voce che potete ascoltare nei video che ho inserito nel Post.
Nella sua prima band, gli Howdy Moon, di cui uscì l'omonimo album nel 1974, era affiancata da Jon Lind e Richard Hovey, ma soprattutto nel disco appaiono come musicisti anche i Little Feat al completo, con Lowell George presente anche come produttore, e tantissimi altri ottimi musicisti del rock californiano, Van Dyke Parks, Sneaky Pete, Andrew Gold, Jim Keltner, John Sebastian, Chuck Rainey. E nonostante il disco, uscito per la A&M vendette molto poco, poi ottenne un contratto per la Columbia che le pubblicherà i due dischi successivi, veramente splendidi, Just A Stone's Throw Away, del 1977, co-prodotto ancora da Lowell George con Maurice White degli Earth, Wind And Fire, e nel disco suonano, e cantano, Jackson Browne, Linda Ronsatdt, Tom Jans, John Hall, Herb Petersen, Jeff Porcaro, Bob Glaub, e potremmo andare avanti per ore. Il disco contiene il suo brano più "famoso" Ooh Child, un classico del soul e la bellissima title track.
Molto bello anche il disco del 1978, Wild Child, prodotto da James Newton Howard, un filo inferiore al suo predecessore, ma sempre ottima musica, più commerciale e leggera, con quasi tutti i Toto impegnati nell'album.
Dopo quasi venti anni di silenzio esce The Way It Is, prodotto da Eddy Offord, quello storico degli Yes, e vi riporto solo per curiosità la lista di alcuni dei cantanti presenti Jackson Browne, James Taylor, Linda Ronstadt, Phoebe Snow e Lyle Lovett, in una versione splendida di Into The Mystic di Van Morrison.
Nel 2003, pubblicato solo per il mercato giapponese, esce un doppio CD dal vivo Midnight Over Honey River e poi, a mia conoscenza, solo qualche saltuaria collaborazione con nomi minori, fino alla notizia della scomparsa di pochi giorni fa. Basta e avanza per riservarle un posto tra "gli angeli" della canzone, tra nomi forse più famosi ma certo non di maggiore talento, che possa Riposare In Pace
Bruno Conti